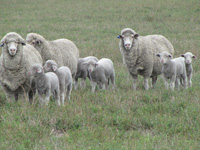 Breeding Program
Rices Creek strives to consistently breed big, early maturing plain bodied sheep with productive skins and free growing white wools. Sound structure has always been of paramount importance in our selection criteria, and this continues to be a major focus.
Artificial Insemination Program
450 ewes are annually artificially inseminated to the best available outside sires, together with leading Rices Creek sires.